Mouzon
À Mouzon
Late 12th century… Culture, confined within the abbeys, such as the Benedictine monastery of Mouzon, opened up to the outside world. Ways of thinking evolved and this phenomenon was also seen in art. Whereas the Romanesque is a style of balance, Gothic expresses verticality. The abbatial church of Mouzon was a fine example of this new trend.
Information: Only the church and the abbey gardens, in the French style, are open to visitors: the abbey itself has become a retirement home.

Place de l'Abbatiale
08210 Mouzon
Tel : 0033(0)3 24 29 79 91

À Mouzon
B - The woollen felt museum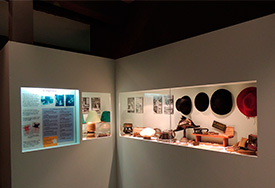 A fun-filled and original way to learn about the oldest textile in the world, from its origins to the most innovative industrial uses, including unique contemporary artistic creations.
The visit can also include manual felting workshops for young and old.
More information : www.mouzon.fr/musee.asp

1.5€

Place du Colombier
08210 Mouzon
Tel : 0033(0)3 24 26 19 91

À Mouzon
C - The city of Emperors
Louis XIV considered the Mouzon region to be 'the loveliest place in the kingdom'. And you can see why when you approach this small city, lying like an island within the whimsical Meuse, where the river twists and turns, dividing into several arms. A city of kings and emperors: Caesar, Hadrian, Charlemagne, and Otto the Great all came here!
Sightseeing
The Burgundy Gate is a fine example of 12th-century military architecture. A tower that never loses its direction… while it doesn't point towards modern-day Burgundy, it does face Belgium which at the time belonged to Charles the Bold…
Walking
A guided circuit following the town's fortifications is available from the tourist office.
À Mouzon
D - Reception and tourist information site

Voir sur la carte
Office de Tourisme des Portes du Luxembourg (during the season, in the Dovecote)
Le Colombier
08120 Mouzon
Tél. : +33 (0)3 24 29 79 91