Sedan
(The land of epics )
The Ardennes massif gives way to a vast plain across which the Meuse river flows peacefully. This is border country, once at the crossroads of invasions. The towns were fortified and the castles were made impregnable: the mark of history is particularly strong in this region. In the south, the landscape softens to form a succession of gentle hillsides, contrasting sharply with the battles that were fought here in 1870, 1914 and 1940.
À Sedan
When visitors arrive at the foot of the castle, the huge wall merges with the sky, releasing immense power! Europe's biggest fortified castle hasn't aged at all. Built in the 14th century by a quarrelsome princely family, it has evolved constantly. Those who have dared cross swords with it have come to a sticky end, whether emperors or kings. The visit is imposing: this formidable fortress has retained an austere splendour.
Did you know?
The castle represents the power of the La Marck family, which had established a state of its own in this border zone: the principality of Sedan. Following the brand-new circuit, with an audio guide, you will learn about the unusual fate of this State, which became part of France in 1642.
Tip
Leave your car at the base of the fortress so as to experience the full magnificence of the place. Enter through the moat ticket office.
Sleep and sense
A night in the castle
Take the place of a prince for a night, by sleeping in Sedan castle itself. This hotel has been established within the thick castle walls: every room has its very own fortification.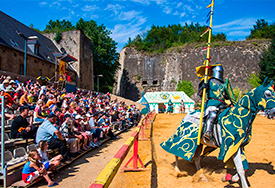 The medieval festival
Chivalry tournament (during the season)
Night visits, themed visits to the castle
À Sedan
While Sedan is mainly known for its feats of arms, with the fate of France being decided there on three occasions, the city can also boast of being one of Europe's main cloth production centres from the 16th to the late 19th century. The workshops here produced 'Sedan', the famous black, hard-wearing woollen cloth known throughout the world.
Tip
The most beautiful way into the old city is through the 'Traversant' gate, home to the tourist office. At the same time, you will be able to discover local products such as the legendary Turenne chocolate or 'Sedane' beer.
City of art and history
'Laissez-vous conter' (Let us tell you) is a circuit that leads you through the modern, contemporary city. This guide is available from the tourist office.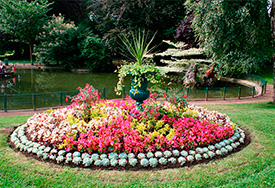 The Botanical Garden
Designed in 1880 by René Richer, the city's landscape architect, the botanical garden takes its inspiration from Art Nouveau.
'La Tour d'Auvergne' restaurant
Enjoy a delicious meal at the heart of Europe's biggest fortified castle …
Brasserie and castle boutique
À Sedan
C - Reception and tourist information site

Voir sur la carte
L'office du Tourisme du Pays Sedanais
35 rue du Ménil
08200 Sedan
Tél. : +33 (0)3 24 27 73 73
À Sedan
'La Tour d'Auvergne' restaurant
Enjoy a delicious meal at the heart of Europe's biggest fortified castle …