The Meuse twists and turns, crossing the Ardennes massif once more before entering Givet. The valley widens, bathed in light, with the imposing Charlemont Castle towering above it.
À Givet
A - A "daughter of the Meuse" to be defended

Voir sur la carte
Lying in the broad Meuse valley, the small town of Givet has linked its destiny with this river. A commercial waterway, in the Middle Ages the Meuse quickly took on a strategic importance. Whoever held sway over it was master of the economy in northern Europe. So Givet became a fortified town! In 1554, Charles the Fifth had a major fortification built here, Charlemont fort. He defied the hegemony of the King of France, Henri II. In the 18th century the inevitable Vauban, architect of King Louis XIV, came to Givet, which had become French by then, to erect a gigantic defensive system around the town. The fortifications, garrison forts and moats were to surround the town, making it impregnable.
Guided tours of the town and its fortifications provided by the tourist office.
À Givet
B - Walking
Walk. The Mont d'Haurs circuit
There's nothing quite like climbing to realise the power of the citadel. On the opposite bank, as you ascend the Mont d'Haurs, the bastion is revealed in all its vastness. From the Grégoire Tower, the circuit runs along the perimeter of this camp which could accommodate 20,000 men and over 3,000 horses: beneath their feet, a whole subterranean network was established. Givet was able to withstand any siege at all! These days, it has regained its tranquillity, becoming a nature reserve rich in chalk grassland.
Practical details
Distance: 4 km
Waymarking: yellow
Difficulty: easy
Duration: 1h30
Start: From the Meuse bridge, go to the Grégoire Tower along the quays.
To go further afield
Topo guide, The Ardennes on foot, published by the French Hiking Federation. Walk No 11
Did you know?
Givet was ideally situated on the axis of the Saint-Quentin – Cologne Roman road: a bridge was built across the Meuse from the 12th century. The inhabitants coveted this strategic passing place. Taxes levied on goods in transit enriched the city: markets and three fairs were organised there every year.
À Givet
C - Meet and savour
Auberge de la Tour
(Ardenne de France label – Master Restaurateur title)
À Givet
D - Reception and tourist information site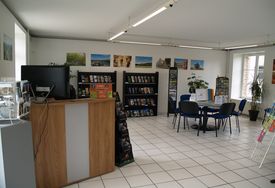 Tourist information point of the Office de Tourisme de Val d'Ardenne Tourisme (Givet branch)
near the Tour Victoire
on the quayside
08600 Givet
Tél. : +33 (0)3 24 42 92 42