Chevetogne, Ciney, Celles, Foy-Notre-Dame
À Ciney
'A town in the countryside'. That's what people say as they arrive in Ciney. A young, green town, dotted with shops and schools that bear on high the reputation and colours of the Condroz. Its title as a capital fits it like a glove. The one it has thrown down many a time during fierce battles in the course of its tumultuous history. The valiant knights lying in castles and chapels would not deny it. Admittedly, the lords of today are more peaceful, with some of them opening up their beautiful and venerable buildings to curious visitors.  
As for Mother Nature, she smiles upon those who take the time to explore it: on foot, on horseback or by bike. And while we're on the subject, why not have a look at the tourist circuits and numerous waymarked walks, as well as the new RAVeL line 126 that follows a superb 18 kilometre route – a walk for all ages!
And then, they enjoy feasting in Ciney. Who has not heard of the famous beer, generously accompanying festival-goers, keen on all sorts of shows and fairs, not to mention those who attend the famous covered livestock market!
Rest assured, the good folk of Ciney provide board and lodging! And the great classics can always be explored in good spirits: the Chevetogne provincial estate, the Marie Mouchon estate nature reserve and the unmissable St Nicolas collegiate church.'
À Chevetogne
B - The Byzantine church and its monastery

Voir sur la carte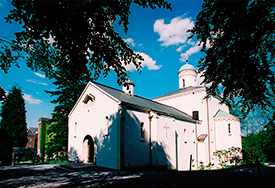 This Benedictine monastery is open all year round. It is a lovely eastern church built in 1957, where Byzantine ceremonies are celebrated in an appropriate setting.
À Chevetogne
C - The Valéry Cousin provincial estate

Voir sur la carte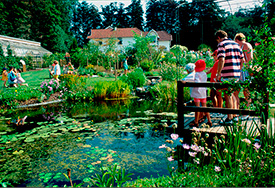 In the hollow of beautiful green valleys nestles the Chevetogne provincial estate.
The estate has everything a family could wish for in one place, spread over an area of almost 550 hectares: places to enjoy with friends, footpaths through woods and gardens, sports grounds and marvellous playgrounds, all grandiose in keeping with the site. The park is designed to promote well-being.
The site welcomes lovers of nature and culture, fans of outdoor leisure activities, sports enthusiasts and, of course, children in search of space and make-believe. It also offers accommodation and hosts events such as the Nuit du Feu (Night of Fire) and the Festival des Cabanes, devoted to huts, caravans and other basic dwellings.