Florenville
À Florenville
A - Canoeing & kayaking: practical information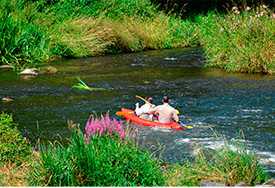 Hire a kayak or canoe:
One day hire: 11 or 8 kms in kayaks for two people.
Numerous combinations with other activities for individuals or groups.
+ More information: www.x-cape.be
Landing: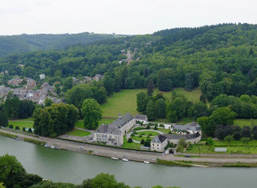 Area near campsite La Rosière (left bank)
À Florenville
B - Church of Our Lady of the Assumption

Voir sur la carte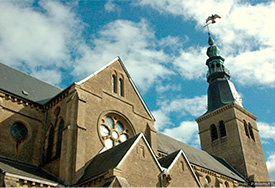 Its belvedere and its bell tower with 48 bells are accessible if you climb 220 steps! It's worth the effort, because the view from up there is truly outstanding.

Guided visit for group on request (M. Hissette: +32 (0)61/31 35 89).

Esplanade du Panorama, 1
6820 Florenville
Tel : 0032(0) 61 31 12 29
Web : www.florenville.org

À Florenville
C - The landscape interpretation centre

Voir sur la carte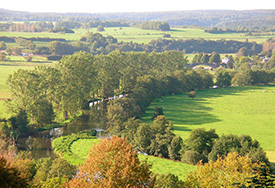 The beauty spot, seen from the Tourist Office, is an extraordinary book opening up onto the Gaume Lorraine. It provides the keys to unlock the region's secrets and all its riches.
About the landscape interpretation centre
À
D - A fund of legends
Multimedia library
À Florenville
With a prior booking, it is possible to visit the chocolate-maker's workshop and even spend time in his company and help him with his work.
À Chameleux
'Le Chameleux'
The local bistro, 'Le Chameleux', lies in a green setting at the heart of the vast Orval forest. Its recipes have been passed down through four generations. The speciality of the house is trout, an absolute delight. And then there's the famous vinaigrette, enhanced by the personal touch of the chef, who also holds the coveted Ambassadeur d'Orval label! Because every year, the Ambassadeur d'Orval is awarded by the famous abbey to the cafés and restaurants that best meet the criteria of Presence, Service and Creativity. Lying opposite a lake and the ruins of an old Gallo-Roman staging post on the Reims-Trèves road, built in 45 BC under the reign of the Emperor Claudius, 'Le Chameleux' has a spacious, peaceful, sunny terrace. It is also the starting point for several forest walks, as well as a short after-dinner stroll to the tiny, picturesque French village of Williers, perched on a spur barred by a wall, no doubt built in Celtic or Roman times. This village, with its single, widening street, is well worth a visit.
From the 'bistrot de terroir', enjoy an amazing walk in the great Gaume forest. Why not continue as far as Orval Abbey on foot, approaching this great church from a different angle.
Practical details
Distance: 11.5 km
Waymarking: blue diamond
Difficulty: average
Time: 3 hrs
Start: in the hamlet of Chameleux, start at the Gallo-Roman camp.
À Florenville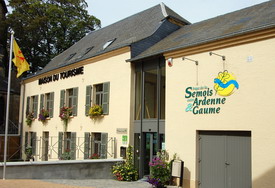 La Maison du tourisme du Pays de la Semois entre Ardenne & Gaume
Esplanade du Panorama, 1 - 6820 Florenville
+32 (0)61/31.12.29
info@semois-tourisme.be
Open all year round
Low season : from 9am to 6pm (from 10am to 4 pm Sunday)
July ang August and Easter holidays : every day from 9am to 7pm and each Friday from April to October
Closed 25th December and 1st January