Chiny
(The power of the earldom in Medieval times )
Bathers from Saint-Nicolas Bridge and kayakers take things easy in Chiny! And yet in the Middle Ages, the village was the fief of a powerful seignory that ruled the entire region with a rod of iron.
À Chiny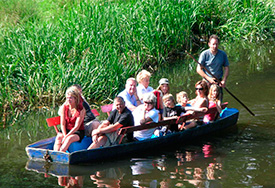 In Chiny, the Semois flows silver. For a hundred years, flat-bottomed boats have glided across the water between Chiny and Lacuisine. Eight kilometres along the untamed Semois: the lapping of the ferryman's boat hook barely disrupts the silence. As you go down river, the ferryman will recount the legends that abound among the rocks and banks of this marvellous river.
You can return on foot through the magnificent Chiny forest. Allow four kilometres for this walk, following the yellow waymarking past the 'Rocher du Hât' overlooking the enchanted twists and turns.
In the Middle Ages, the Counts of Chiny were very powerful and reigned over the entire region: they built Orval Abbey! From the castle overlooking the Semois, grooms went down to the river to water the horses, along underground passages…
À Chiny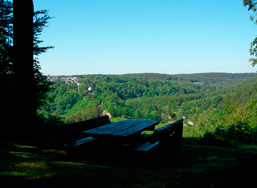 Walking. The 'Roche du Corbeau' or crow's rock
Chiny is a truly delightful stage! This is one of the loveliest stretches of the Semois.
The 'Roche du Corbeau' walk is just the thing for a great day out with children. From the stone bridge, the path follows the Semois to the footbridge from where kayaks and small boats leave. Here you can stop to eat and drink before making your way back to the bridge, where a fine bathing area awaits you.
Practical details
Distance: 4 km
Waymarking: blue triangle
Difficulty: easy
Time: 2 hrs
Start: reach the banks of the Semois from the bridge across the river.
À Chiny
Le Moulin Cambier
Friendliness tastes delightful in Chiny! Breathe, taste, savour... the lovely little regional dishes at the Moulin Cambier, with the 'Bistrot de Terroir' label. After this deliciously friendly moment, be captivated by the region and its lovely walks.
À Chiny
D - Reception and tourist information site:
Syndicat d'initiative de Chiny
rue du Millénaire, 6 - 6810 Chiny
Tél. : +32 (0)61/31.54.04
chiny-si@skynet.be
Open :
Summer : everyday except Wednesday and Sunday
Winter : variable schedule from Tuesday to Saturday