Rocroi
(The land of epics )
Between the mists and the steaming marshes, Rocroi, a star standing on the swamp, served as the guardian of the Kingdom of France…
À Rocroi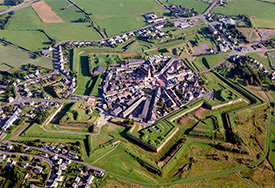 Set like a starfish at the heart of the marshes, where the enemy was sure to get bogged down, Rocroi remains a fine example of a fortified town. Owing its existence to Francis I, who wanted to build a fortification here that was even more imposing than the stronghold in Givet, the city has escaped the vicissitudes of history. And the famous French victory at the Battle of Rocroi glorified the town, impregnable forever.
Guided tours of the town and its ramparts are organised by the tourist office in summer.
Walking
A footpath runs along the town walls.
A card giving details of the walk is available from the Rocroi tourist office.
Did you know?
At the height of his power, Louis XIV protected his kingdom with citadels that followed the natural borders. He called upon Vauban to build almost 300 such structures! Rocroi was no exception, and was modified accordingly by the brilliant architect.
À Rocroi
1643: the Kingdom of France faced a tricky situation: Richelieu and Louis XIII died that year. The regent, the future Louis XIV, was just four years old. The Spanish saw an opportunity to put an end to the kingdom, and marched on Rocroi. If the fortified city fell, the road to Paris would be open to the tercios viejos, the elite infantry corps. Opposite them a young general, just 20 years of age, the Duc d'Enghien, organised the defence: the battle was played out in the marshy ground known as the rièzes. In the space of one morning, and against all the odds, he routed the Spanish army, despite its numerical superiority. The reign of Louis XIV could begin…
À Rocroi
The Valley of Misery
What an awful name given to one of France's most pastoral valleys. Today, the path leading to Rochelle lake is a delight to behold, with its rowan tree berries and orchids, but in the 15th century it was trampled by workers who, working in dreadful conditions, extracted rubble to build Rocroi: a miserable task.
From the stronghold of Rocroi, the route winds among the wooded hedges before plunging into the steep-sided valley. There you will find waterfalls, loam farms and a very soothing atmosphere…
Practical details
Distance: 10 km
Waymarking: yellow rectangle, walk No 4
Difficulty: easy
Time: 3 h
Start: From the stronghold.
To go further afield
Topo guide on sale at the Rocroi tourist office.
Topo guide, Les Ardennes à pied (The Ardennes on foot), published by the French Hiking Federation. Walk No 3.
À Rocroi
D - Reception and tourist information site
Office de tourisme de Rocroy et du Nord Ouest Ardennais
14 place d'Armes
08230 Rocroi
Tél. : +33 (0)3 24 54 20 06