Rochefort
(A town at the crossroads )
In the Middle Ages, the power of the prince-bishops of Liège extended beyond the Ardennes. From Liège to Bouillon, fortresses were erected to protect the communication and trade routes. In Rochefort, two roads crossed: a castle was built here, along with a town, surrounded by a wall. While the site was strategic, the town was unable to develop, caught between the imposing castle and the hill. Rochefort will never be a sprawling town.
À Rochefort
A - The ruin of the count's castle

Voir sur la carte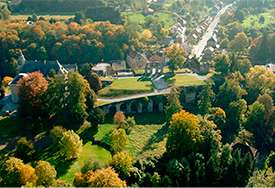 The walls that block the horizon in Rochefort are all that remain of the fortified castle that gave its name to the place. Excavations have revealed the foundations of a square keep, part of the primitive castle of the Montaigus. In the 17th century, Jean Ernest de Loewenstein, count of Rochefort and Prince-Abbot of Stavelot, converted it into a palace. In 1811, the castle was sold as national property: from being a fortress, it became a quarry and was taken down stone by stone. What a sad fate!
The castle had a turbulent existence, besieged many times owing to its strategic position, converted into a palace, nationalised and then used as a quarry by pragmatic locals. Today it is a centre of history and archaeology.
Did you know?
The lord of Rochefort accompanied Godfrey of Bouillon to the Holy Land – and came back alive.
À Rochefort
B - The Malagne Gallo-Roman Archaeopark

Voir sur la carte
A stone's throw from the centre of Rochefort, the Malagne Gallo-Roman Archaeopark recreates the environment and the life of one of the biggest Roman villas in northern Gaul. Around the remains, the ancient Gallo-Roman farm has been restored, with its animals, its crops and its workshops. The Roman house, superbly restored, radiates an unrivalled sense of gentleness. Definitely not to be missed!
À Rochefort
C - Reception and tourist information site
Syndicat d'Initiative de Rochefort- www.valdelesse.be