À Freyr
The berthing is accessible to private boats. in front of the castle, on the left bank, between 13,057 and 13,080 cumulative.
À Freyr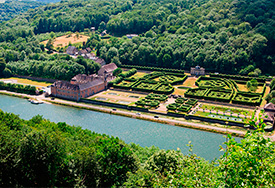 French-style classicism
While the fortresses of the Meuse valley stand on rocky spurs, that of Freyr, on the banks of the Meuse, was built to protect the ford crossing that served as a border between the Prince-Bishopric of Liège and the earldom of Namur, two constantly feuding states. It was to prove easy prey for the French troops of the Duke of Nevers, who destroyed it.
In the 16th and 17th centuries, tired of these feudal wars, the lords of the manors aspired to realise the sweet dream of "living nobly". The architecture of the fortresses changed. Windows were opened and pleasure gardens replaced high walls. Freyr was no exception to the rule: it was to be rebuilt as a residence in 1571. Its garden was an ode to French classicism. Its geometry broke with the rugged landscape of the surrounding area. On the banks of the Meuse, Freyr Castle and its Renaissance style have lit up the valley for over 400 years.
Did you know?
In the summer months the orange trees, which are over 250 years old, come out of the orangery and line the avenues of the geometric garden. Visiting Freyr is a pleasure for the senses.