Joigny-sur-Meuse
(Joigny-sur-Meuse )
The Meuse skirts the Grands Ducs beauty spot, steep slopes shimmering with long slabs of many-coloured schist. At the start of the century, a great many family ironworks and nail factories provided a living for the local people. Joigny-sur-Meuse, a quiet village, offers the pleasures of fishing as well as walks in its oak, birch and beech forests.
À Joigny-sur-Meuse
A - Joigny-sur-Meuse mooring station
The mooring station of Joigny-sur-Meuse offers boaters, from april to october, 48 meters of floating bridging bottom of the site of the Grands Ducs.
This recent river stop fitted in 2013, has a capacity of 6 boats.
Electric sockets and water available
This city has some shops in front of the river stop.
À Joigny-sur-Meuse
A historic past
'The village of Joigny-sur-Meuse is most probably of fairly recent origin (17th or 18th century). The modern-day name of the inhabitants is the 'Joviniens', but they are jokingly referred to as the 'Jaunicus'. The village was once called 'Jogny' or rather 'Iogny', according to a somewhat imprecise map of 1772. Then in around 1889 it became 'Joigny-devant-Nouzon' and finally 'Joigny-sur-Meuse'. Joigny-sur-Meuse, which still belonged to the St Lambert chapter of Liège in the early 13th century, only became French under Louis XIII, in 1629, when the Princess of Conti ceded her sovereignty of Château-Regnault (Ardennes) in exchange for Pont-sur-Seine, in Haute Champagne.
À Joigny-sur-Meuse
C - Joigny-sur-Meuse - The Grands Ducs

Voir sur la carte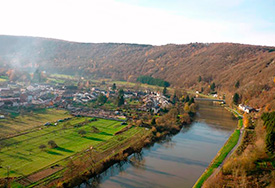 The Grands Ducs rocks in the Meuse valley create a superb landscape. They lie on the left bank of the Meuse and reach a height of 227 metres, forming the tip of a rocky spur that edges the loop of the river. The forest is all around and the reliefs stand out clearly. The Grands Ducs rocks form a real cliff and appear to plunge into the waters of the river, helping to lend this site its grandiose atmosphere. This body of sandstone and schist presents an outstanding panorama over the villages of Joigny-sur-Meuse and Nouzonville.