Ermeton, Florennes, Thy-le-Château
À Florennes
In the 11th century, the Normans travelled up the rivers of western Europe and spread terror in the countryside. A castrum or 'florinas' was built on a rocky spur: Florennes was born and expanded over the centuries. The castle was extended, becoming the property of the Dukes of Beaufort-Spontin. On the site an oratory or small chapel dedicated to Saint Gangulphus attracted many pilgrims. A collegiate church was built there to house the relics. At the same time, the canons established a Benedictine abbey which quickly took advantage of the vast agricultural land on the plateau.
Did you know?
Saint Gangulphus is the patron of … deceived husbands. He is said to have been killed by his wife's lover…
Walking
Follow the 'Dukes' Walk' and explore the historical heritage of Florennes with the help of a booklet (2 km).
Download the walking card : www.entre-sambre-et-meuse.be
À Florennes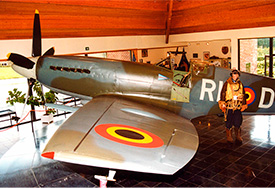 This museum contains many souvenirs as of 1943 (German fighter plane airbase), including the famous Spitfire that contributed towards the liberation of Europe. The museum is on the Florennes military base.