The abbey
(The abbey church of Elan )
À Elan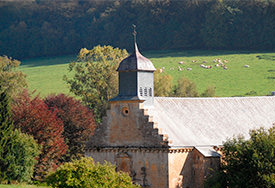 Could the forest of the Ardennes also be 'this wilderness' usually associated with the East, where hermits and monks live in isolation in order to converse with God? In the 12th century twelve monks, led by Roger, discovered one of these wildernesses, offered by the Count of Rethel who wanted to atone for the massacre of the village of Boulzicourt. This land, named 'east land' by the Irish monk, was ideally situated away from the world, far from the life of trade … buried in solitude in the deepest forest. The site was near quarries and surrounded by springs. These days, Elan still retains its ability to captivate.
Did you know?
The abbey manor is remarkable for its chestnut structure in the form of an upturned ship's hull (Private site, no visit).
The abbey manse, which once welcomed travellers, is now home to the tourist office.
Walking.
A short walk leads to Saint Roger's chapel, built on the site of a miraculous spring that radiates an atmosphere of purity.
Practical details
Distance: 3.5 km
Waymarking: rose ('monk' pictogram)
Difficulty: easy
Time: 1 h
Start: from the Tourist Office
To go further afield…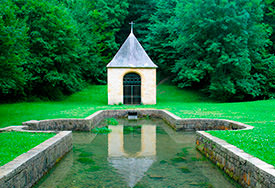 Topo guide, Les Ardennes à pied (The Ardennes on foot), published by the French Hiking Federation. Walk No 45.