Liaison - Our - Maissin
(Liaison - Our - Maissin )
À Our
Our lies along the winding river that bears its name, faithful to the image of Ardennes villages. It is typical of this region, with its low-built houses of shale and sandstone rubble. On a promontory stands the listed Saint Laurent's church. Down below, the old 18th-century bridge spans one of the clearest rivers in the country. Leaving the village, the scene becomes one of water, rocks and oak trees.
Practical details
Distance: 9 km
Waymarking: red and white rectangle
Difficulty: average
Time: 3 hrs
À Porcheresse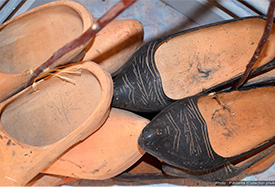 The clog museum evokes social history. Apart from the more affluent people of the region, in the Ardennes they wore clogs on their feet. In the 19th century, almost 70 % of the men in Porcheresse were clog-makers.
Opening Hours
Open all year from 10am. to 18pm. after reservation: +32 (0) 61/50 33 70 or SI Daverdisse: +32 (0) 84/31 59 92.
Guided tours for all. Reduced prices for groups (10 pers.)
Possibility to combine clog museum and water pump from the 19th century in Porcheresse (suppl. 50%).

Life was not always just glory and adventure for Napoleon's Great Army. Many men deserted, fleeing into the vast Ardennes forest. They owed it their freedom, but were unable to return to France. These soldiers hid and lived in the woods, emerging from the shadows later on. To survive in their new lives, they became clog-makers in Porcheresse and the surrounding villages. Legend or rumour? You will find out more when you visit…
À Maissin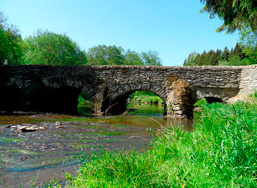 Marie-Thérèse's bridge, listed in 1989, spans the Lesse level with the old route de Transinne. This four-arched structure blends with the surrounding landscape. Built of shale rubble, it was erected in the 18th century on the trade route between Liège and Bouillon, a city belonging to the prince-bishopric. Along the way, numerous customs posts checked the travellers and goods crossing from the Kingdom of France to the Austrian Low Countries. Europe was still a long way off…
The bridges walk
Draped in hoar frost, the Maissin region is pervaded by a gentle torpor. Follow these paths of silence, taking the route that leads to the banks of the Lesse and the historic bridge!
Practical details
Distance: 4 km
Waymarking: purple rectangle
Difficulty: average
Time: 1.30 hr
Start: in the village of Maissin, opposite the church, panel indicating the starting points of the walks.