Connection- Nismes - Dourbe - Olloy-sur-Viroin
À Nismes
A - Information and services for cyclists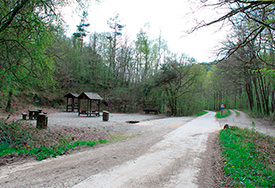 Upon leaving the centre of Mariembourg, you can pedal along towards Nismes and the Viroin valley before turning aside in the direction of Dourbes. These two villages are part of the Viroin-Hermeton nature reserve, which is renowned for the diversity of its fauna and flora. Make the most of the landscapes that stretch out before you and take the time to observe the surrounding countryside.
Between Mariembourg and Nismes, follow a cycle path along the side of the road and a short stretch of a minor road (about one kilometre) to the small village of Olloy-sur-Viroin and the start of the RAVeL route.
This stretch laid out along the old 451 local railway line which once linked Olloy-sur-Viroin and Oignies-en-Thiérache is delightful. Nature lovers will appreciate this route right through Nismes forest, following the Noué stream most of the way.
À Nismes
This area is known mainly for its nature reserves and its geological curiosities (the so-called Fondrys – dolines or funnel-shaped depressions in the ground). It is also a very lively village, the ideal place to stop for a rest and refreshments.
À
C - Reception and tourist information site
Tourist office of Viroinval
Riue Vieille Eglise, 2
+32(0)60/31.16.35