Liaison - Couvin - Brûly-de-Pesche - Cul-des-Sarts
À Couvin
The old town, once walled, still bears remarkable witness to its initial configuration. This demonstrates the importance of its position on the borders of the Principality of Liège, of which Couvin was one of the twenty-three 'good towns'. 'La Falaise' (the cliff) provided spur from which to keep watch and provide protection, and a castle stood there from the Middle Ages. An explanatory leaflet on the route is available from the tourist office, which also organises guided tours for groups upon reservation.
À Bruly-de-Pesche
C - Hitler's 1940 bunker and the museum of the resistance

Voir sur la carte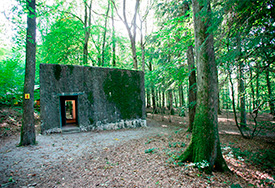 On 6 June, Hitler arrived in Brûly-de-Pesche, surrounded by his staff. He directed the French campaign from here, naming the spot the 'Wolf's Ravine'. Today, the site still bears the remains of his stay. Two pavilions have been reconstructed here, similar to those of 1940. The first contains numerous photographs of the time and DVD films (FR/NL/GB). Nearby, a second pavilion commemorates the resistance led by Group D of the Hotton service. Finally, in the park created by an architect in 1940, visitors will discover the imposing bunker.
Length of visit : 1 hour