À Virton
A - Savour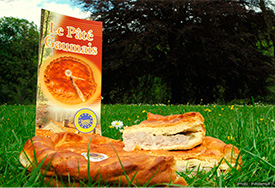 Gaume pâté
The people of Gaume are the ultimate gourmets… This meat pâté on raised pastry is stuffed with pieces of pork marinated in wine or vinegar with herbs and spices, as the butcher prefers. A dish to be brought back by everyone returning from a trip to Gaume.
À Virton
The valley of happiness! In summer, the canopy of the great forest and the lakes are the perfect place to stroll around. Footpaths and mountain biking trails criss-cross the area. A lovely map is available from the Tourist Office.
À Virton
The RAVeL
This is the most 'forest' RAVeL of the Ardennes, crossing part of Virton forest, characterised by its abundance of broad-leaved trees. This RAVeL is the path that leads to the scene of the Four Sons of Aymon legend. It runs along the Montauban site before continuing on to Croix-Rouge near the Fairies' Cave and Renaud Castle.
Practical details
Distance: 8 km
Difficulty: easy
Time: 1 hr
Start: as you leave Ethe, on the N 82
À Ethe
Standing on a slope not far from the Gaume war museum are the ruins of Latour Castle. This edifice may be over a thousand years old, as it seems that the first lords of the place had a defensive tower built on the hillside in the 9th century.
Visits upon reservation …

6761 Virton
Tel : 0032(0) 63 57 83 52

À Latour
E - The Gaume war museum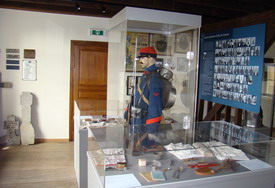 The Baillet-Latour and war museum in Gaume reflect the tragic episodes of the battle along the borders and the massacres of 22 and 24 August 1914. The museum also retraces the history of the village, the castle and the seignory of Latour.
Length of visit: 1.30h
À Virton
F - A fortified town … in the Middle Ages

Voir sur la carte
Who would think that this charming city was once a major fortress, encircled by fortified walls, backed up by moats and dotted with towers! The guided medieval walk brings your imagination into play: at the heart of the city there were vines, squares with cattle markets and a mill wheel turned by the water of the river Ton. Life there was hectic!
Tip
A topo guide, available from the Pays de Gaume tourist office, will take you on a journey through the Middle Ages.
À Virton
The loveliest place to find out more about the southern Gaume region. It retraces the history of this region where Roman culture crosses the ages to join our own. Children will be delighted by the way this museum teaches.
À Virton
La Maison du tourisme du Pays de Gaume
rue des Grasses oies, 2b - 6760 Virton
+32 (0)63/57.89.04
mtg@soleildegaume.be
Open everyday from 9am to 6pm