Bogny-Sur-Meuse
(Four Sons of Aymon )
Nature has sketched out four slopes in Bogny-sur-Meuse that could resemble the never-ending ride of the four legendary knights.
À Bogny-sur-Meuse
A - Château Regnault mooring station (Bogny-sur-Meuse)
The mooring station of Bogny-sur-Meuse offers to the boaters, from april to october 72 meters of floating bridging bottom of the site of the 4 sons of Aymon.
This recent mooring station (2013), has a capacity of 12 boats
Electric sockets and water available
This city has some shops in front of the mooring station.
contact: 03.24.53.94.20 et 03.24.36.08.61
À Bogny-sur-Meuse
The Ardenne is dotted with real or imaginary traces of the four rebellious brothers. What does it matter if the Geste took place in Montauban, Dinant or Bogny-sur-Meuse, the forest of the Ardenne was in fact to be their only refuge. In Bogny, the rocky ridge, set in stone, evokes the speed of the four brothers, fleeing the anger of Charlemagne. This outstanding site is accessible via a path through the wood leading to a panorama dominated by the statue of the four brothers, sought throughout Europe by Charlemagne's army.


From the site of the Four Sons of Aymon, a discovery trail runs along the ridges. Allow one hour to complete the loop.
À Bogny-sur-Meuse
The sorcerer Maugis was never very far from the Four Sons of Aymon. They built their landmark, Regnault Castle, on a rock spur. Opposite, the Hermitage Rock is said to have sheltered the hermit Maugis. It is guarded by the statue of the knight Dardennor which stands four metres high.
À Bogny-sur-Meuse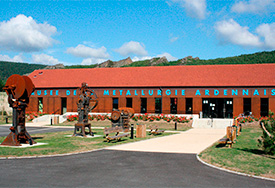 This unique museum explains the long and surprising history of ironwork in the Ardennes department from the last centuries of the Middle Ages to the present day.
http://www.musee-metallurgie-ardennes.fr
Info pratiques :
tél : 03 24 35 06 71
A ride by rosalie or pedal car, bicycle or tandem on the green track
Philippe and Graziella will welcome you
À Bogny-sur-Meuse
E - In the vicinity of Bogny-Sur-Meuse

Voir sur la carte
Between Bogny sur Meuse and the village of Haulmé
Superb panoramic view over the Semoy valley and the typical village of Haulmé.
A picnic area has been laid out near the site.