Gimnée - Romerée
À Gimnée
A - Information and services for cyclists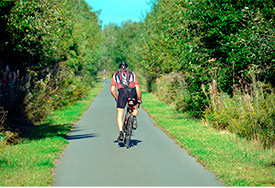 The track is virtually straight and very smooth. Rest areas and benches where you can sit and chat are provided along this stretch. So all you have to do is follow the path in peace and quiet and enjoy the countryside.
À Gimnée
B - The village of Gimnée
Another point of interest along the route: the beautiful village of Gimnée, all in slate and limestone, hugging a fairly hilly landscape dotted with numerous old buildings.  
À Romerée
C - Romerée
The village can be reached from the railway station along the cycle path. It is particularly magnificent as it was built on the crest of a limestone hill. It consists mainly of a long street, with St Rémi's church halfway along it and still retains examples of housing typical of the rural fens.