Connection : Nouzonville - Joigny-sur-Meuse
À Nouzonville
A - Information and services for cyclists
Hire points and certified accommodation
The facilities available from these service providers include a secured bicycle shelter, an area equipped to clean bicycles, etc.
Bed and Breakfast « Le Temps des Cerises »

Voir sur la carte
1 rue Victor Hugo
08700 Nouzonville
Tel. : 03 24 53 77 89 ou 06 18 71 75 66
Cycle hire: wide range of bicycles, mountain bikes and trailers for kids.
Other hire points
Tel. : 07 88 16 49 65. Location de VTT,
Cycle hire: wide range of bicycles, dutchbikes.
Location de vélos hollandais (VTT et remorque enfants sur demande)
dans les relais vélo du Colvert Mosan, à Nouzonville,
à « Coté Nature » (tél. : 03 24 26 52 06) et
à Montcy-Notre-Dame « hôtel Chabotier » (tél. : 03 24 33 39 29)
Nouzonville railway station / train + bicycle formula

Voir sur la carte
Access: cross the bridge towards the town centre and follow the road signs. The railway station is about 500 metres from the green path.
À Joigny-sur-Meuse
B - Joigny-sur-Meuse - The Grands Ducs

Voir sur la carte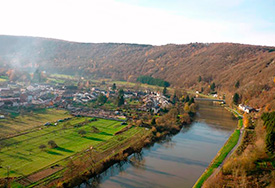 The Grands Ducs rocks in the Meuse valley create a superb landscape. They lie on the left bank of the Meuse and reach a height of 227 metres, forming the tip of a rocky spur that edges the loop of the river. The forest is all around and the reliefs stand out clearly. The Grands Ducs rocks form a real cliff and appear to plunge into the waters of the river, helping to lend this site its grandiose atmosphere. This body of sandstone and schist presents an outstanding panorama over the villages of Joigny-sur-Meuse and Nouzonville.
À Joigny-sur-Meuse
A historic past
'The village of Joigny-sur-Meuse is most probably of fairly recent origin (17th or 18th century). The modern-day name of the inhabitants is the 'Joviniens', but they are jokingly referred to as the 'Jaunicus'. The village was once called 'Jogny' or rather 'Iogny', according to a somewhat imprecise map of 1772. Then in around 1889 it became 'Joigny-devant-Nouzon' and finally 'Joigny-sur-Meuse'. Joigny-sur-Meuse, which still belonged to the St Lambert chapter of Liège in the early 13th century, only became French under Louis XIII, in 1629, when the Princess of Conti ceded her sovereignty of Château-Regnault (Ardennes) in exchange for Pont-sur-Seine, in Haute Champagne.