The Border to Ramonette
À
A - Information and services for walkers
Along the way…
We join the route de Corbion, taking it on the right along the ditch.
The wood we are walking alongside is called the Extrémité, an old, dark estate sold as national property at the time of the French Revolution which came into the hands of the town of Bouillon in the 20th century.
We then cross the old Boucauderie cluster of oak trees to the relay tower (alongside the Vieille Route de France) and join waymarked path No 11 to cross the Gernelle before going down towards La Ramonette.
À Bouillon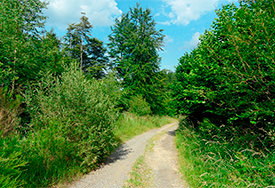 The old Boucauderie cluster of oak trees takes its name from the nanny goats (known as 'gattes' in Walloon dialect) and billy goats brought to graze in this, the spot farthest away from the town. The oak grove has disappeared, replaced in the 19th century by a spruce stand resulting from natural seeding which in turn gave way in the 20th century to a mixed cluster comprising beech and Douglas firs.